When I moved to New York in the 1960s, I was a recent business school graduate and a management consultant by training. In this line of work, relationships are everything. But I never thought that some of the most impactful ones I have experienced would be within the confines of a cancer hospital.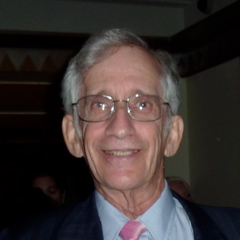 In 1999, when I was diagnosed with a small tumor in my kidney, I spoke with local doctors, who recommended removing my entire kidney. Then I came to Memorial Sloan Kettering, where I met with urologic surgeon Dr. Paul Russo for a second opinion. 
At the time, Dr. Russo was in the early stages of perfecting what is now a standard procedure: the partial nephrectomy. This surgery removes just the tumor, leaving the remaining healthy kidney intact. After my surgery, Dr. Russo delivered wonderful news: The cancer in my kidney was gone and now, 21 years later, I still see Dr. Russo regularly and try to support his groundbreaking research whenever possible.
My relationship with MSK hasn't been limited to my own treatment. For many years, my wife has received ongoing oncology care at MSK, currently under Dr. Maria Lia Palomba's direction. Moreover, other members of our family share the same MSK pulmonologist, Dr. Rana Kaplan. In the two decades since Dr. Russo saved my kidney, these extraordinary physicians also have provided life-changing care for me and my loved ones, for which we are most grateful.
Since my spouse and I don't have children, my estate plan leaves some of our assets for medical research and to hospitals where our family has received excellent treatment. For me, making a bequest to MSK is a way to ensure that its research, educational, and medical infrastructure help make our country a leader in the continuing fight against cancer. After all the time and care the team at MSK has invested in my family, I am committed to supporting a cancer research hospital that impacts cancer care everywhere.
In addition, I make annual contributions to Memorial Sloan Kettering. This allows me to provide immediate support for the research of our current MSK doctors, so that other families can experience the same exceptional care that mine has.
Over the past 20-plus years MSK has welcomed us like family, and I deeply value this relationship. It is an important reason why I have included provisions in my estate plan to help ensure that MSK physicians can continue to provide lifesaving care and keep families stricken by cancer whole well past my lifetime.