SEE YOUR NAME IN LIGHTS
Times Square viewing schedule: January 28 to January 31 at 9 AM, 12 PM, 1 PM, 5 PM and 7 PM.
Let's Keep Pushing the Frontiers of Cancer Research and Care
2019 was a year full of ground-breaking discoveries and leaps forward in cancer care for patients around the world. Donors who gave online in December 2019 will see their name in lights in Times Square.
Starting on Tuesday, January 28, the names of all See Your Name In Lights donors will shine on American Eagle's Time Square billboard located at the corner of Broadway and West 46th Street. 
The Circle of Lights names will be illuminated on Disney's Store billboard located at the corner of 7th Avenue and 45th Street. 
Viewings for both billboards will be 9 AM, 12 PM, 1 PM, 5 PM and 7 PM. The first showing of the Circle of Lights billboard on January 31 will be between 9 AM and 10 AM.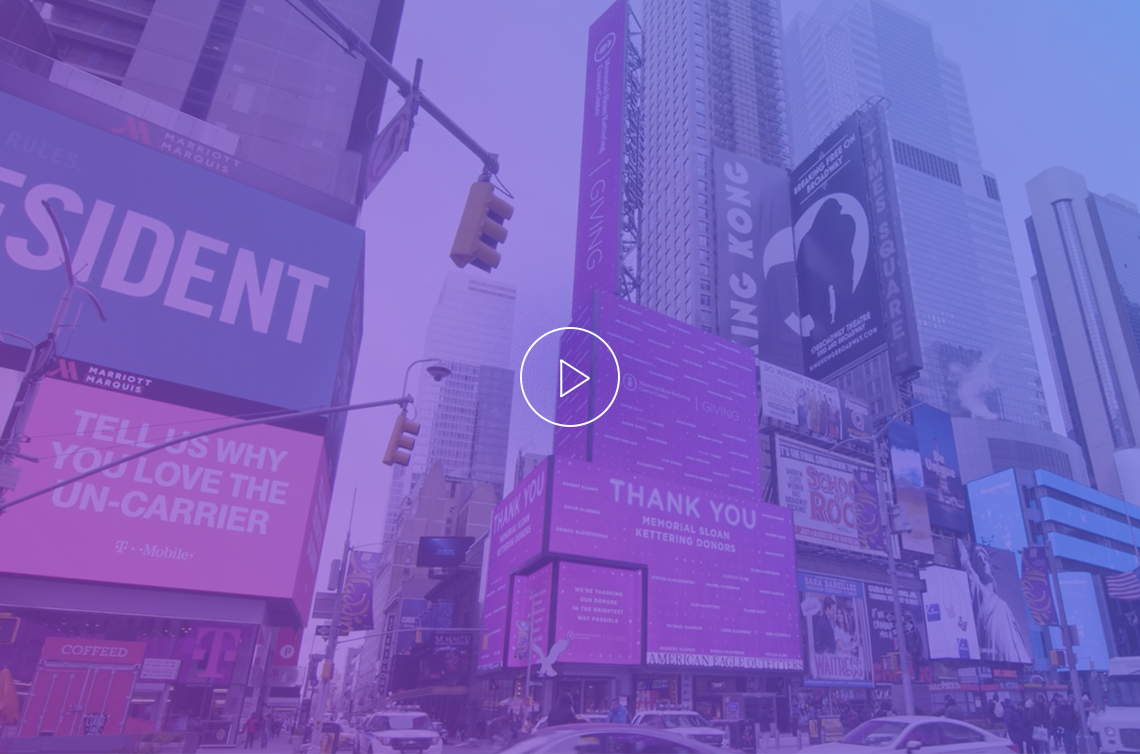 These Transformative Advances Were Made Possible by the MSK Giving Community

The Mind-Blowing Power of MSK Mind
The new MSK Mind project will harness A.I. to pull actionable insights from MSK's unprecedented data and potentially discover a new generation of treatments.
---

The Big Machines Saving MSK's Littlest Patients
MSK doctors try not to use radiation on kids because of side effects later in life. Our leading-edge proton beam machines are able to target kids' tumors with an ultra-precise, "pencil beam" of subatomic particles – sparing healthy tissue.
---

Deconstructing Metastasis
Metastasis causes 90 percent of cancer deaths, yet its mechanisms have remained stubbornly mysterious – until now. Dr. Joan Massagué's team is identifying conditions necessary for cancer to spread, with the goal of stopping metastasis and saving lives.
See last year's See Your Name in Lights Video
Watch